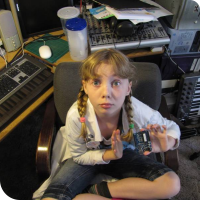 Hey guys! After almost 2 months of waiting, my new favorite episode of Sylvia's Super Awesome Maker Show is here! Super Simple Arduino!
I show you how to build two super simple projects for Arduino with code I helped write! A Super Simple Strobe for looking at things in slow motion, and the Randomly Influenced Finger Flute (or, the RIFF). And with the help of our electronic puppet friends, we explore how the Arduino does some of it's magic. It was a blast to make and I hope you have a blast watching it. Let me know what you think in the comments.
Thanks for watching!