You heard us right, our very own "Super-Awesome" Sylvia will be speaking from the heart this coming Saturday December 1st, 2012 at TEDx San Jose California!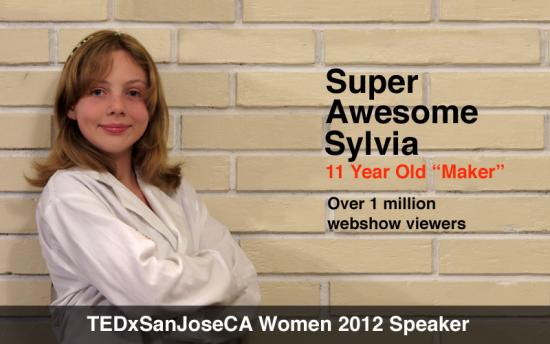 Sylvia will be talking without a script; all about the show, the importance of summer vacation, and what she thinks is most important in learning. It won't be perfect, but she'll be doing her best, it's only a webshow after all! She'll also have a few tangible surprises for the audience thanks to our awesome friends over at MAKE Magazine.
She'll also be joined by some amazing people on stage, including her friend Jack Andraka she met at TEDx Redmond back in September. At only 15 years old, he helped create an incredibly effective and cheap test for various types of cancers, which helped him win over $100,000 and the grand prize at the 2012 Intel Science Fair.
If you think you can make it, click here to sign up! For the rest of the world, the conference will be streaming live during the event, with details to come on the official Facebook page.
Also, don't forget to keep up with Sylvia live during the event for thoughts, exclusive pictures, and more on her official twitter account.
Hope to see you there!