Such a summer has been had this last year by us, it's taken nearly 6 months to get an update. Busy doesn't start to cover it!
With the creation of her incredible WaterColorBot, Sylvia then launched her Kickstarter to make it into a kit for everyone to enjoy, which then launched her on a tour around the world. Picking up where we left off back in July, just from momentum we breeze past Summer and on into Winter: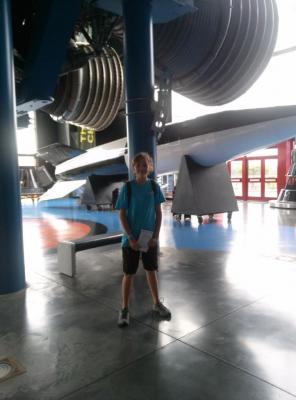 August 10th: Riding the wave of her success at the White House Science Faire in April, Sylvia was given a full scholarship to NASA Space camp, flew across the country on her own, had an incredible, unforgettable time, and even got a custom made NASA twitter badge which she now proudly wears on her lab coat.
Sylvia says: "It was really really fun! I got to meet so many cool friends, and I went on the multi-axis trainer and spun around, but didn't get dizzy. I also did two awesome missions where I was one of the ISS commanders and did a bunch of experiments, and another where I was doing moon mission control in the future. I am totally going back as soon as I can!!"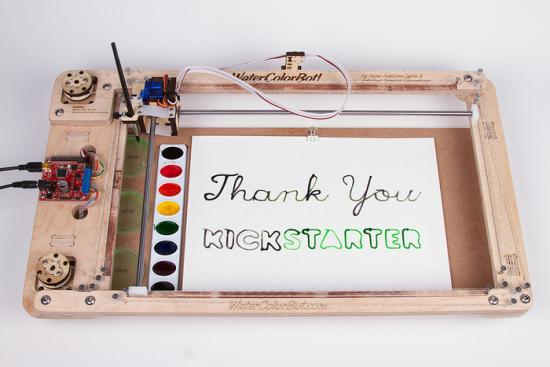 August 15th: We made it! With the community's help, we demolished our goal of $50k to raise nearly $90k towards the WaterColorBot project. Now in December and January, bots are shipping and backers are getting their hands dirty with robots, CNC, and watercolors!
Sylvia says: "WOO HOO! So happy and excited to finally complete the Kickstarter so bots could get out to people. Thank you everybody who contributed to make this goal happen, and for those that got one, hope you liked the cards I made :) "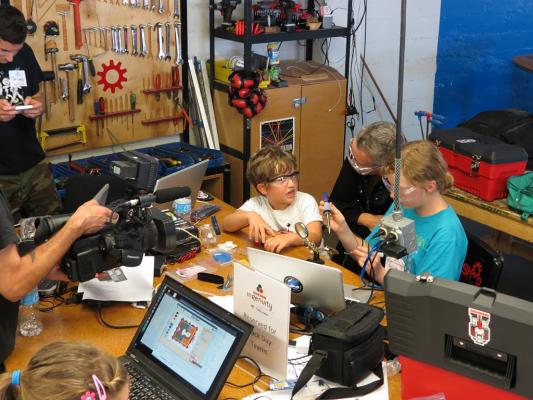 August 17th: After her return flight from Space camp, we stopped off at Boing Boing: Ingenuity with the WaterColorBot. In the first hour we formed the most incredible team in the universe, with me, Sylvia, Joe Grand, and Ben Krasnow, proceeded to create a Ford XC controlled Water Color Painting hack. We then won first place grand prize (a MakerBot Replicator 2) totally by accident, and freaked out.
Sylvia says: "I still can't actually believe we got the grand prize! I had total blast with Joe and Ben, who are unstoppable incredible uber-makers and I can't wait to do more awesome stuff with them!"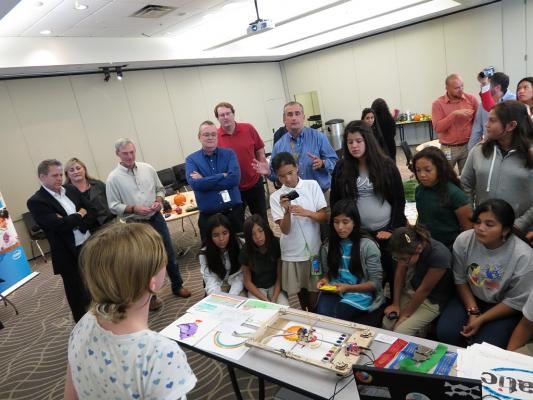 October 10th: After a quick invite, Sylvia was incredibly pleased to attend and talk to young girls at Intel to celebrate the international day of the girl! She talked all about the incredible journey she'd taken, did some Maker Makey experiments, inspired some girls, and was given a brand new Arduino Galileo board from Intel CEO himself Brian Krzanich.
Sylvia says: "Super cool to meet the CEO and all the awesome girls making fun experiments with Makey makey and scratch, and I can't wait to try to make something cool with my new Galileo board."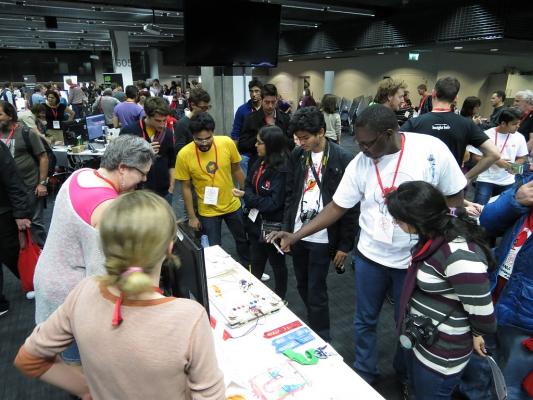 October 23rd: With summer over, well intentioned plans altered by a loss in the family, we continued on and arrived in London for MozFest. Where Sylvia and I spoke and presented all about the WaterColorBot and it's open source APIs, and showed off our web interface demo. So much fun, so many new fans of this little painting platform and the show. Full photo album here.
Sylvia says: "Going to London was SOOOOoooooo cool! I met so many amazing, creative people and got to tour around London, and it was one of the best trips I've had yet. I'm going to make my web game and submit soon!"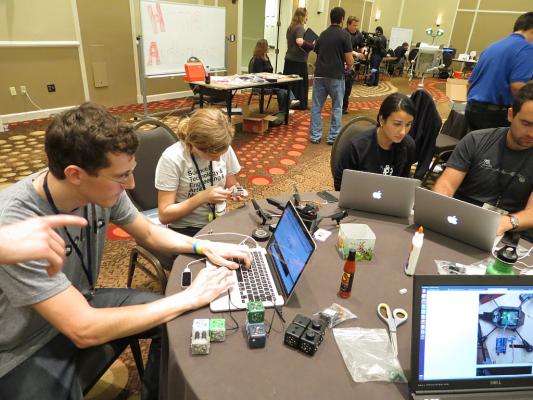 December 5th: With November nearly uneventful, RobotsConf in Florida headed up December with Sylvia and I doing a quick Keynote about the crazy adventure we've had this year, with her making the WaterColorBot, and me making the desktop software to drive it (Full photo album here). Once that was out of the way, we dove in and hacked together an awesome AR Drone with Spark Core triggered servo grabber controlled entirely by Leap Motion hand gestures.
Sylvia says: "I love Florida! And yea I was a little scared to do my keynote, but me and Dad winged it and had fun, and the rest of the conference was all about making awesome robots, so that's never not awesome!"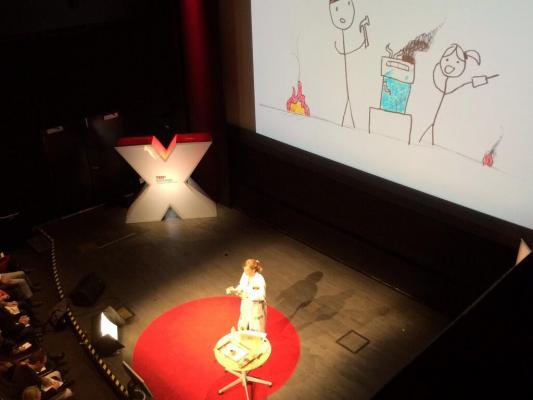 December 12: Only just returned, she's off again to her third TED event, TEDx San Diego! Sylvia spoke all about her incredible adventure so far with the show, and the WaterColorBot from inception, to incredible difficulty getting through iterations, and how she conquers the innumerable hard problems keeping her from her dreams every day (including doing the talk!). Video to be posted soon.
Sylvia says: "Phew! Glad that's over. Yes, it was fun and amazing, and exhilarating, but man how stressful. I think I'm going to wait a bit to do anymore talks for a while. For now I'll stick to fun videos :) "


And that just about wraps up for this year. It's been an incredible whirlwind of activity, and though the WaterColorBot has been big, Sylvia really hopes she can now focus on more episodes and outreach to teach the magic that is getting hands on and making things.